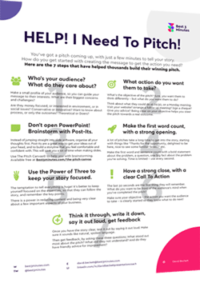 HELP!
I Need To Pitch!
Seven steps to help you build your pitch in no time at all
no signup required
Need more help? Try these tools that have helped hundreds of Startups raise millions
We've trained numerous Startups, Accelerators and Corporates to develop innovative, winning pitches.


Pitch Training for Corporate Innovation Teams and Startup Accelerators. Keynotes on Pitching. 
Pitch Training for Companies
Half Day or Full Day Workshop for Innovation teams and anyone who presents the company.
Pitch Training for Startups
Online courses delivering the tools you need to make an investment or business winning pitch