David Beckett is a Pitch trainer and TEDx speech coach, with extensive experience in both Corporate and Entrepreneurial business worlds.
"I began pitch coaching because I love to help people who have great ideas get their voice heard. I'm passionate about coaching startups and professionals to reach higher levels of presentation, so they can be proud of what they deliver and get the action they want from their audience."
David is the author of Three Minute Presentation and has given inspiring speeches at various events around the world. He is also the creator of The Pitch Canvas©.
Recent Awards Won by David

Most Valuable Mentor, Startupbootcamp

Dell for Entrepreneurs Pitch Competition

Freelancer of the Year (Coaching and Training)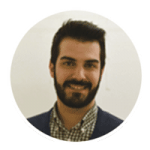 "Since the beginning David had been involved 100% in helping me to achieve my goals. With The Pitch Canvas© and his personal coaching, you can write a perfect script and give an amazing performance."
Juan Zamora, CEO Signaturit